Construction Group's Quarterly Meeting Stresses Safety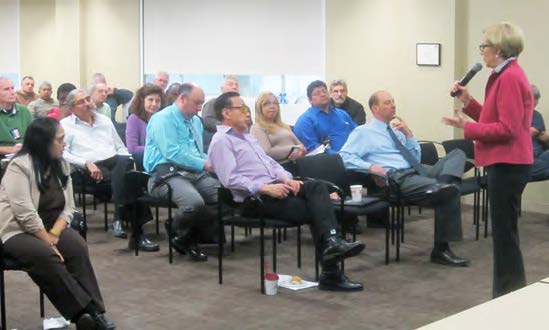 The Capital Projects Division's Construction Group held its staff meeting for the second quarter of 2016 in the Ceremonial Room on April 4. More than 80 project managers, assistant project managers, construction managers, and construction field supervisors from CPD's largest unit were in attendance. During the one-hour session, Director of Construction Patricia Zander emphasized the importance of safety-first procedures, and discussed key performance indicators along with 2016 goals and metrics.
These staff are the technical experts who oversee major construction work performed by contractors
to ensure compliance with NYCHA's and the City's standards, and completion within budget and on time. This is a particularly busy period for the Construction Group, which is monitoring over 100 active capital projects throughout the five boroughs. Much of the work is funded through federal dollars, with additional mixed funding through City and State sources.
"We do it all — brickwork, roofing, MEP [mechanical, electrical and plumbing], boilers, gas piping, major renovations, and more," Ms. Zander said before the meeting, which was held after a weekend with 40 – 50 mile-per-hour winds that affected scaffolding and sidewalk sheds at many construction sites. Fortunately, no serious incidents occurred and areas hit were secured the same day.
"The first order of safety is to make sure that you, yourself, are safe," Ms. Zander said, reminding staff to always wear hard hats, along with safety vests, boots and glasses. This "leading by example" also sends a strong message to other staff at the construction sites. Ms. Zander also reminded the field managers and supervisors to discuss safety reporting requirements with staff and site personnel at weekly project site "tool box" meetings — and don't forget to circulate meeting attendance sheets! Supervisors must respond to all reported safety issues within one hour, which is the industry standard, or sooner when warranted, and ensure that issues are corrected and reported back as such.
"You are great practitioners," Ms. Zander told the group. "You know what you're doing — but you need to improve safety reporting response time and followthrough." All Construction Group staff are required to complete mandatory safety training by the end of the year. The safety training was one of 10 training courses required for staff this year, reflecting the Authority's commitment to the safety of our employees.