Come Join the Fun on Instagram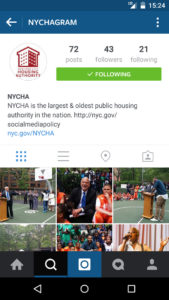 NYCHA has launched its own account called @nychagram on Instagram, the popular picture sharing platform for social media where photos are tagged by category with hashtags.
"We're excited about the account, launched last month by DOC's digital communications team," said Interim Digital Communications Manager Thomas Ngo. "We think it will be a great way to engage employees, residents and community members on Instagram, and to share the work of NYCHA's photographers and followers."
To participate, employees can tag their post with #nychagram for possible posting on NYCHA's account.
Past heavy engagement events have included the Carmelo Anthony Basketball Court dedication at Monroe Houses in the Bronx and the NYCHA Talent Show.
So what are you waiting for? Join the conversation on Instagram about NYCHA and the communities it serves.