Chair Olatoye Addresses White House Forum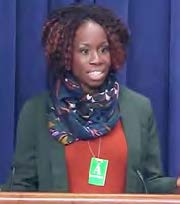 Chair and CEO Shola Olatoye joined innovators, local governments and community groups at the White House Opportunity Project on October 6 to discuss the Authority's progress in using new digital tools to better serve residents. At the forum, Chair Olatoye called for more tech partnerships and new tools to solve outstanding data challenges and help improve public housing.
Citing recent technical initiatives, the Chair mentioned distribution of smartphones to frontline staff; use of NYCHA metrics for transparency into key indicators; the MyNYCHA app; the Self-Service Portal and Digital Vans.
A video of the Chair's remarks can be found here.