Celebrating the Employees Who Support NYCHA's Families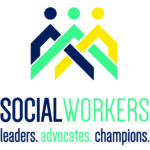 On March 29, the Family Partnerships Department honored NYCHA's social workers during a lively National Social Work Month breakfast celebration at the 90 Church Street Ceremonial Room. This year's national theme – "Social Workers: Leaders, Advocates, Champions" – reflects NYCHA's core values and the roles that the Authority's social workers inhabit on a daily basis.
Staff received certificates of appreciation as well as a proclamation from Chair Shola Olatoye recognizing their contributions to safer, cleaner, and more connected communities at NYCHA.
Executive Vice President (EVP) for Community Engagement and Partnerships Sideya Sherman, EVP for Operations Cathy Pennington (a social worker early in her career), and Senior Director Ukah Busgith expressed their appreciation to attendees. Social Worker Magalie Joseph and Senior Advisor Tischelle George recited poems about the impact of social work.