Cathy Pennington Appointed EVP of Operations

And Other Management Announcements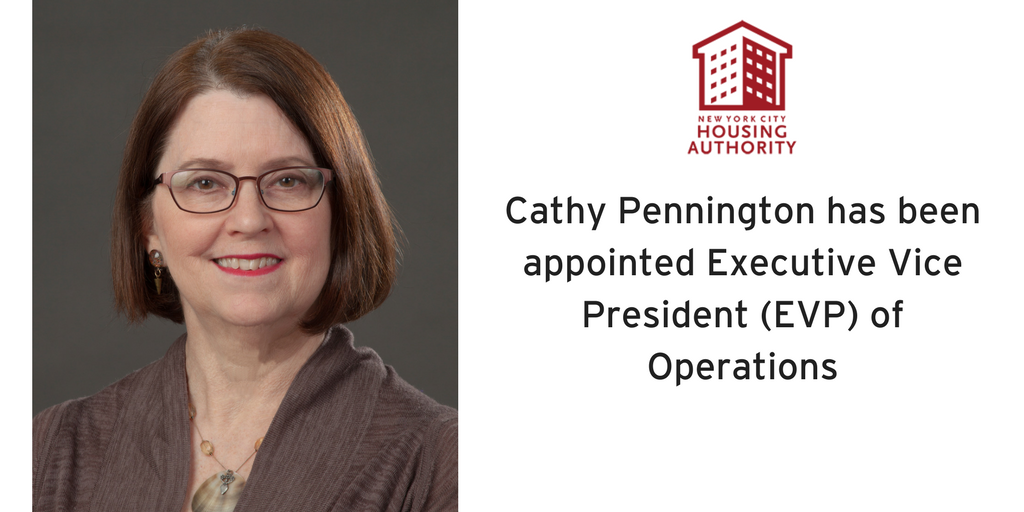 Cathy Pennington has been appointed Executive Vice President (EVP) of Operations. In this role, Cathy will oversee the activities of the Operations Division, comprised of approximately 8,700 staff in three divisions: Property Management, Support Services, and the NextGeneration Operations (NGO) Department.
Cathy has served as Acting EVP of Operations since December 2017. She first joined NYCHA in March 2013 as the EVP of Leased Housing, where she administered the largest Section 8 voucher program in the country.
Before joining NYCHA, Cathy was employed by the Quadel Consulting Corporation, where she led the Section 8 programs for the Newark Housing Authority and the Chicago Housing Authority. Earlier, at the Cuyahoga Metropolitan Housing Authority in Cleveland, Cathy served as the Director of the Housing Choice Voucher Program and as Deputy Executive Director.
Cathy holds a Bachelor of Social Work degree from Cleveland State University and a Master in Social Science Administration degree from Case Western Reserve University. She is a Board Member of the National Leased Housing Association and has served on the boards of numerous professional and affordable housing organizations.
Carolyn Jasper has been appointed Vice President of Public Housing Operations effective April 2, 2018.  In this role, Carolyn will serve as a lead subject matter expert and advisor for asset management and directly oversee the property management departments responsible for the management of approximately 50 percent of NYCHA's public housing portfolio. Carolyn will also help to lead the transition of the Authority's portfolio to the NGO model.
Carolyn has served NYCHA in various roles for more than 25 years, most recently as Senior Director for Property Management overseeing the Queens/Staten Island portfolio, which includes 18 developments with 20,410 units and a workforce of more than 800 employees. Carolyn led the successful transition of the Queens/Staten Island portfolio into the NGO model.
Rodney Davis will serve as Acting Director for Queens/Staten Island Property Management. Rodney is currently the Deputy Director for Queens/Staten Island.