Bring It On Home

NYCHA Skyliners Serve Up Softball and Camaraderie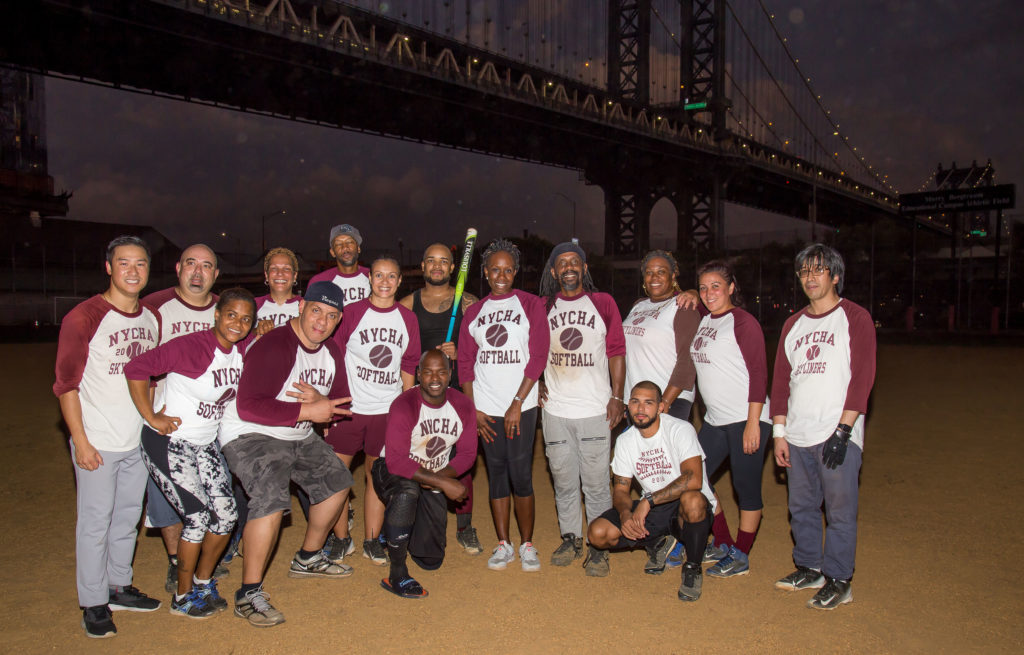 This fall, NYCHA's softball team, the Skyliners, really knocked it out of the park. This is the first time in their four-year history that the Skyliners won an NYC Government Softball League playoff game, beating the Human Resources Administration.
The weekly games aren't just a good way to show off athletic skills and blow off some steam. They also provide an opportunity for employees throughout NYCHA to come together and gain different perspectives on the Authority's work from new friends.
"I've been playing softball for 38 years for leagues all over the state," said Tracy Lovelace, a Community Coordinator in the Office of Safety & Security who has played first base for the Skyliners for three years. "When I found out that Housing had a team, I took that opportunity to meet nice people from other departments and be part of something I love doing. The guys and gals on this team are one big, happy family. For employees who want to be part of some fun and laughter after work, the NYCHA softball team is the place to be."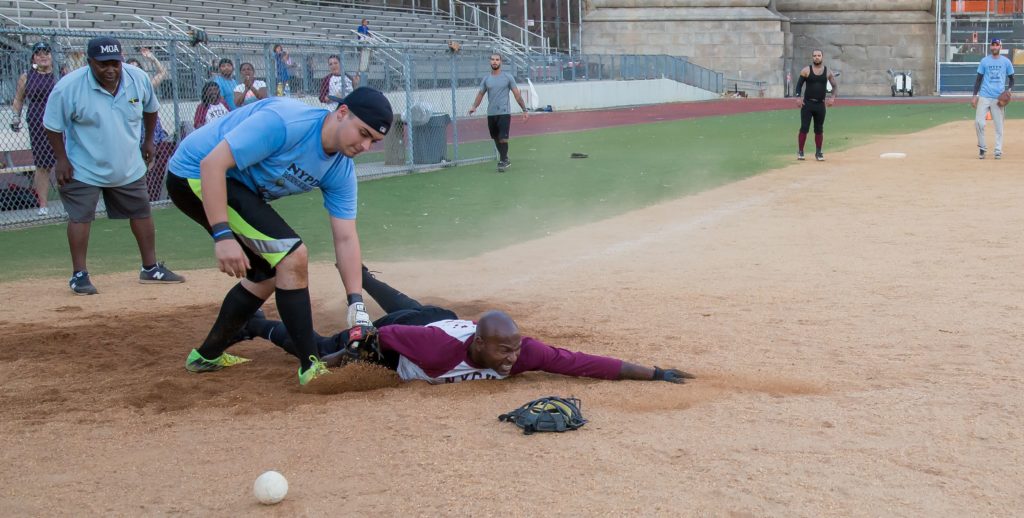 Rookie outfielder Andre Gonzalez, a Caretaker at Dyckman Houses, joined the team to network with colleagues. He enjoyed "seeing the bonds that everyone built throughout the season. We have fun no matter if we're up by 10 runs or down by 10." Left fielder and Executive Assistant to the Chair Andy Destin, a former semi-professional basketball player, was invited to contribute his athletic skill set to the team. "I still play basketball and football and wanted an avenue for baseball," he said.
"When I'm on the field, I forget about everything else except my team, the game, and the competition," explained pitcher Donald Logan, the Assistant Property Manager at Woodside Houses. "We've developed and improved a lot this season. I like the fact that we don't give up. That's been our signature – no game is really safe against us, because we're very competitive."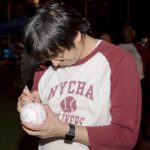 Victor Au, a Research Assistant in the Procurement Department, pitches and plays right field. He's also the team's statistician, keeping meticulous records of every game. A highlight of the season, he said, was a comeback win over the Department of Education – the Skyliners scored four runs in the bottom of the seventh inning – which kicked off a four-game winning streak.
Jennifer Montalvo, Deputy Director of the Office of Intergovernmental Relations, is the team's manager and catcher. "We try to make the games light and fun. For example, if we are playing the City Council, we'll say, 'Oh Council, if you don't like the umpire's call, why don't you legislate about it?'"

The fun continues after every game. "We go out to a restaurant," said outfielder Andrew Faubel, Assistant Director in Financial Planning & Analysis and one of the team's coaches. "What's really nice is that the team started as central office-heavy. As word has gotten out, more people have joined, including from developments in all five boroughs and the Leased Housing Department."
To join, start training for next season – and email softball@nycha.nyc.gov.