Awarding NYCHA's Gardeners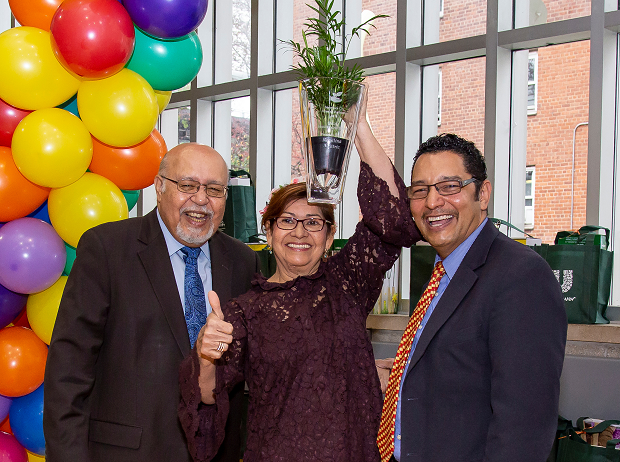 Roselina Mestric of Pomonok Houses (center ) was proud to receive one of the 2018 Master Gardener Awards at the 55th Annual NYCHA Garden & Greening Awards Ceremony. Ms. Mestric was joined by NYCHA Resident Board Member Victor Gonzalez (left) and NYCHA's Coordinator for Special Projects Juan Santiago (right) as they celebrated the hundreds of resident gardeners gathered at the Johnson Community Center for the event on November 9, 2018.
More than 500 NYCHA gardens, tended by over 1,000 gardeners, were judged by a panel of respected horticultural professionals. Every year, NYCHA resident gardeners compete to win the top spots in each of the three categories: best flower, theme, and vegetable garden in the city. The garden competition is one of the oldest urban gardening programs of its kind in the country. The ceremony was sponsored by Unilever and highlights the hard work and dedication of NYCHA's resident gardeners and NYCHA's Garden & Greening Program, a year-round beautification, environmental preservation, and education initiative that benefits residents and the greater community.
Congratulations to the Citywide Winners:
Flower Garden:
Angels Among Us, New Lane Shores
Vegetable Garden:
El Jardin Los Amigos de Moore, Moore Houses
Theme Garden:
Ebony's Garden, Marcy Houses
2018 Master Gardener Awards
Saul Barrios, Gun Hill Houses
Emma Barcelli, Manhattanville Houses
Roselina Mestric, Pomonok Houses
William 'Bill' Morgan, Todt Hill Houses
2018 Outstanding Garden Winners
Flower Gardens
Beach 41st Street Houses, Queens
Vladeck Houses, Manhattan
South Jamaica Houses, Queens
New Lane Shores, Staten Island
Vegetable Gardens
Ingersoll Houses, Brooklyn
Pink Houses Community Farm, Brooklyn
Grant Houses Community Garden, Manhattan
Hammel Houses Community Garden, Queens
Flower Garden Winners
Bronx
1ST PRIZE: Million Dollar Garden – Morris Houses
2ND PRIZE: Sun Rise Garden – Patterson Houses
3RD PRIZE: Twinkle, Twinkle Little Star – Union Ave. Consolidated
Brooklyn
1ST PRIZE: Roses Are Red, Violets Are Blue – Ingersoll Houses
2ND PRIZE: Jeanette & Pansy's Flower Garden – Brevoort Houses
3RD PRIZE: Breukelen Sight Community Garden – Breukelen Houses
Manhattan
1ST PRIZE: The Wild Garden – Isaacs Houses
2ND PRIZE: Lauretta and Skate's Family Garden – Smith Houses
3RD PRIZE: Secret Garden – Manhattanville Houses
Queens
1ST PRIZE: Woodland Whispers – Pomonok Houses
2ND PRIZE: Hephzibah – South Jamaica Houses
3RD PRIZE: Granny's Bloomers – Astoria Houses
Staten Island
1ST PRIZE: Raising the Stakes – New Lane Shores
2ND PRIZE: Peace & Harmony – Berry Houses
3RD PRIZE: Rose Land – New Lane Shores
Vegetable Garden Winners
Bronx
1ST PRIZE: Morris Project – Morris Houses
2ND PRIZE: Love Your Block – Soundview Houses
3RD PRIZE: El Bohio – Union Ave. Consolidated
Brooklyn
1ST PRIZE: Melania's Garden – Tompkins Houses
2ND PRIZE: Green First – Boulevard Houses
3RD PRIZE: Dominique Byrant Vegetable Garden – Ingersoll Houses
Manhattan
1ST PRIZE: Grant Community Garden – Grant Houses
2ND PRIZE: Mohammed Uddin Veggies – Johnson Houses
3RD PRIZE: May May Garden – Smith Houses
Queens
1ST PRIZE: Bennett Garden – Baisely Park Houses
2ND PRIZE: Love Heart – Beach 41st Street Houses
3RD PRIZE: The Dragon Garden – Ravenswood Houses
Staten Island
1ST PRIZE: The People's Garden – Mariner's Harbor Houses
2ND PRIZE: Din'as Garden – Berry Houses
3RD PRIZE: Cassidy-Lafayette Community Vegetable Garden – Cassidy-Lafayette Houses
Theme Garden Winners
Staten Island
1ST PRIZE: Let's Grow Together Gardening Program – South Beach Houses
2ND PRIZE: Therapeutic Garden – Richmond Terrace Houses
3RD PRIZE: South Beach Garden Court – South Beach Houses