An Outstanding Collaborator

NYCHA Employee Recognized for Partnership with Thrive NYC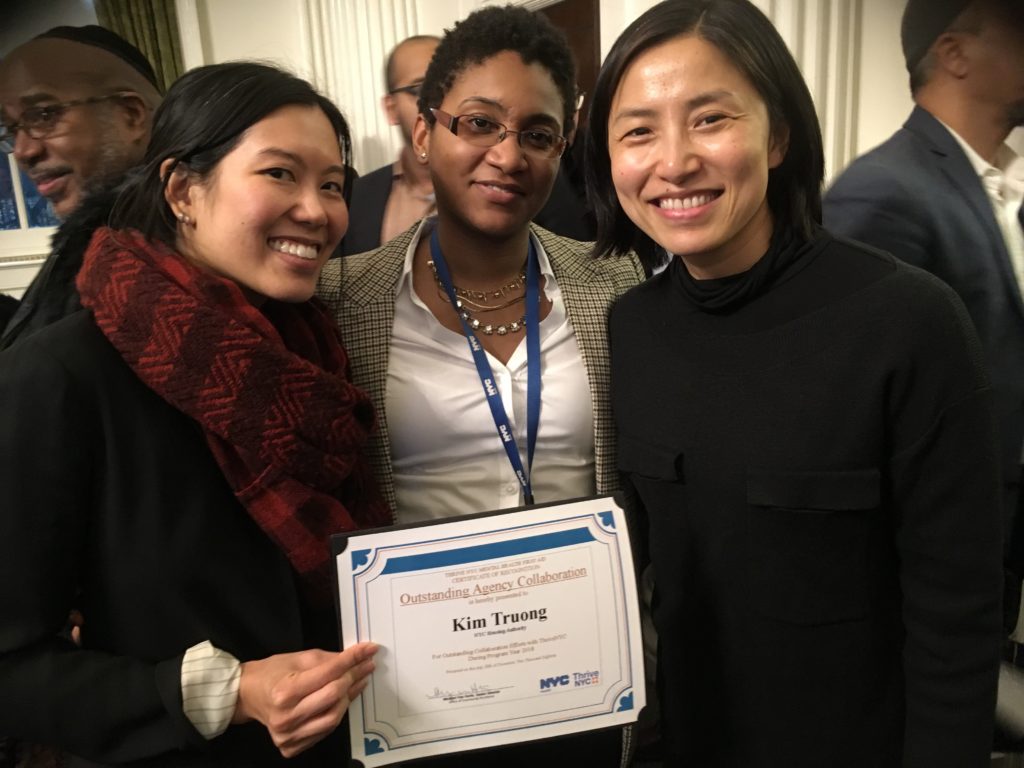 As part of a lively celebration at City Hall on December 5, Kim Truong, Community Coordinator for NYCHA's Health Initiatives unit, received the "Outstanding Agency Collaboration" award from the City's Department of Health and Mental Hygiene (DOHMH) for her work on Thrive NYC's Mental Health First Aid program. ThriveNYC is a multi-agency initiative spearheaded by First Lady of New York City Chirlane McCray.
"It's been great working with Thrive NYC as a close partner, particularly in coordinating Mental Health First Aid training at NYCHA developments," remarked Ms. Truong. "Some resident leaders have been so enthusiastic about the trainings that they've worked with us to plan multiple trainings. We want to ramp up our collaboration in 2019 to bring this resource to more NYCHA developments and work toward breaking the stigma too often associated with mental illness."
"I nominated Ms. Truong for this award because she has been very responsive and reliable when requests were made," noted Youngim Park, a Mental Health First Aid Outreach Coordinator at DOHMH. "We look forward to our continued partnership in the future!"
Since its launch three years ago, 2,200 NYCHA employees and nearly 800 NYCHA residents have completed Thrive NYC's Mental Health First Aid training. In addition, outreach teams have connected with residents at 29 developments this year about the resources available through Thrive NYC.