Advance Your Career at CUNY's Murphy Institute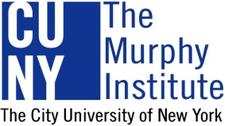 Applications for the fall 2017 semester of the City University of New York/Department of Citywide Administrative Services (CUNY/DCAS) Public Administration program are now being accepted. Offered in partnership with participating unions, the innovative degree and credit-bearing certificate programs on both the undergraduate and graduate levels prepare City employees to deliver effective services to residents of New York City.
You can meet with admissions representatives for CUNY's Murphy Institute for Worker Education at an information session on June 14 in the Citywide Training Center (CTC), located at 1 Centre St., 24th floor south side, from 5-6 p.m. To reserve a seat, contact J. Valentine at jvalenti@dcas.nyc.gov. Please include in the email your first and last name, agency, phone number, email address, and date of the information session you wish to attend.
The Murphy Institute offers working adults an opportunity to study with dynamic and supportive faculty who are both renowned scholars and practitioners in the field. Students deepen their knowledge of the challenges and opportunities faced by our cities, communities, and workplaces by pursuing study in either urban or labor studies.
For more information, you may call the Murphy Institute at 212-827-0200.