A NYCHA Author's Dream Comes True

By Valerie Pepe, Analyst, Capital Projects' Sustainability Programs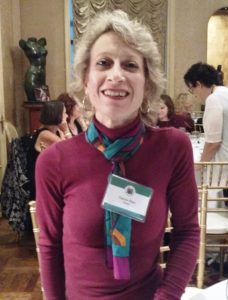 On October 9, 2017, I had the privilege and once-in-a lifetime opportunity to be honored at the 73rd Columbus Day Parade – the largest celebration of Italian-American heritage and culture in the United States – for my memoir, "Deformed: My Remarkable Life." The parade's Grand Marshal, Leonard Riggio, Founder and Chairman of Barnes & Noble, acknowledged the work of 100 Italian-American authors from across the country. Some of the authors I sat among included David Baldacci, Lorenzo Carcaterra, Nelson DeMille, Wally Lamb, Lisa Scottoline, Gay Talese, and Adriana Trigiani. To be recognized alongside such fine authors was truly humbling and inspiring. I also attended an elegant luncheon hosted by the Columbus Citizens Foundation, where the authors shared ideas and spoke about their books.
As a third-generation Italian-American on my mother's side from Genoa, Italy, and a second-generation on my father's side from Naples and Portenza, this moment was not only incredible but also made my parents very proud. As Mr. Riggio said prior to the event, "I have long held the belief that Italian-American writers have received little recognition for their contribution to America's literary heritage, and that's why I am so pleased to honor these 100-plus authors who will be marching with me in the parade."
My memoir is now available in Barnes & Noble stores nationwide. To see your first book sitting on the shelf is an author's dream come true. All those nights writing in a diner or café after working a full day at NYCHA definitely paid off.
I want to let all my fellow NYCHA friends know that each of you have a story to tell. So, start journaling your life – that's just what I did.