A Better Place to Work and a Place That Works Better

By Martin Golden, Proud NYCHA Carpenter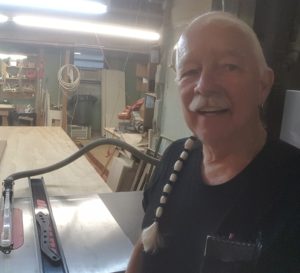 NYCHA: a better place to work and a place that works better. This concept embodies the work of the Employee Engagement Committee (EEC). We are NYCHA employees from many different titles and backgrounds working together to help change NYCHA. Our strengths derive from our diversity.
Our first meeting for new members – the second group of volunteers serving a one-year term – was held on July 19. There were EVPs, RAMs, managers, lawyers, supers and assistant supers, IT and CCC experts, caretakers, secretaries, housing assistants, maintenance and skilled trades workers, and more. We are all outside-the-box thinkers sharing different ideas and solutions in a safe environment, brainstorming how to improve NYCHA for employees and residents alike.
I'd like to share three topics that we discussed at our first meeting:
Communication is such an important and necessary skill in the workplace. There are so many links in the chain that represents our work to create safe, clean, and connected communities at NYCHA. It's vital that employees understand each other's roles and communicate with each other to keep the links intact. Also, when working with residents, I explain every step of the repair process and give them a phone number where they can reach me for additional help. Then I act as a conduit to the management office at my development to expedite repairs. Claudia Tejeda, an asbestos hazard investigator and outgoing member of the EEC, called this practice "liaison continuity" and the path to become a "communication ambassador" at our developments.
Mentoring is also an indispensable way to achieve our goals. Corey Gilmore, Resident Buildings Superintendent at Bronx River Houses, proposed an online mentoring concept that would be accessible to all: an online blog on topics pertinent to NYCHA employees that includes FAQs and discussions on best practices.
Through training and education, we can ensure opportunities for advancement for all employees. NYCHA offers many training classes that enhance our performance and interactions with residents and colleagues. We need to make sure these avenues for enhancement remain open – and even expand them.
We will continue to provide updates on the EEC's progress over the next 12 months of our term.