A Stand-Up Guy

NYCHA Employee Fulfills Longtime Vow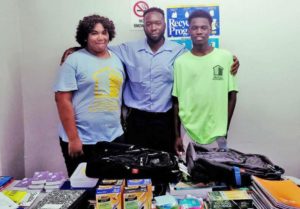 The City's seven-week Summer Youth Employment Program (SYEP), which provided job experience and earnings for almost 900 New York City youth at developments and offices, ended in August. But the encouragement that Grant Houses Supervisor of Grounds Muhammad Watley and his staff gave their young helpers could affect their lives forever. That's Mr. Watley's conviction based on his own experience when he was a SYEP employee 11 years ago.
"The SYEP is the reason why I work at NYCHA now," said Mr. Watley, who grew up in Harlem's Drew-Hamilton Houses before he moved to Lincoln Houses at the age of 10. Back in the 1990s, Drew-Hamilton Houses gave school supplies for the new school year to all the kids who attended summer camp. "That made me and my mom so proud, and I never forgot. I vowed to try to do the same thing," he recalled.
On the last day of work for his two SYEP employees who worked on the Grant Houses grounds, Mr. Watley kept his word by presenting Shakur Latham and Timothy Holmes with an array of school supplies to fuel their enthusiasm for the new school year.
Each SYEP participant is evaluated at the end of the program, and Mr. Watley still recalls earning an award for being in the top two percent. When his program ended two weeks before the start of school, he went back to the management office and asked if he could continue working, even without pay. Policies would not permit that, but Mr. Watley was urged to return next year, after he graduated from high school. When he did, he was hired as a seasonal employee.
"Just 10 years later, and now I'm supervisor of grounds," Mr. Watley exclaimed. "My mom raised me to be a stand-up person. 'Do what you love and love what you do,' she said. 'If you put in hard work, people will show you gratitude.'"
"Every chance we got, I and my staff tried to encourage the three SYEP young people at our development to make the right decisions," said Mr. Watley. That may not seem to be a standard part of the job description for property management, but for Mr. Watley, helping people is what the job is all about.